Slottssprinten, the Royal Palace Sprint, took place in Stockholm on the 11th February. The best competitors in the world were here to participate in this World Cup competition.
The World Cup Sprint competition arranged on a different ski track, around the Royal Palace in Stockholm, gathered a lot of spectators.
They could see the exciting races on site – and for those watching TV, the signal was transmitted by Mobile Links. We had one SNG for Infront and the world feed and one for SVT and the domestic feed.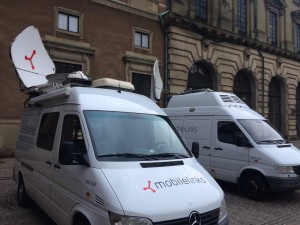 THE RESULT
Ladies: 
1        FALLA Maiken Caspersen      1990      NOR
2      ØSTBERG Ingvild Flugstad      1990      NOR
3      NILSSON Stina      1993      SWE
Men
1      KRIUKOV Nikita      1985      RUS
2      HATTESTAD Ola Vigen      1982      NOR
3      NORTHUG Petter Jr.      1986      NOR