Pope Francis visited Lund and Malmö in Sweden for two days and Mobile Links took part of a big deliverance.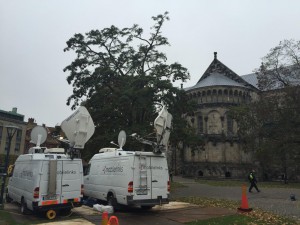 After Pope Francis had arrived to Malmö airport on 31st October he went to Lund's Cathedral and lead an ecumenical prayer service with Lutheran leaders. Later he participated in another ecumenical event at Malmö Arena and on the 1st November there was a catholic mass at Swedbank arena.
SVT broadcasted the service from Lund and the mass from Malmö and Mobile Links delivered these satellite transmissions.
We also had SNGs at Malmö Airport and Swedbank Arena for Svenska Kyrkan/EBU and an SNG with two stand-up positions for EBU in Lund and one at Malmö arena. There were 86 takers of these feeds so the interest was huge.
A press centre was established at Scandic Triangeln in Malmö and all the signals that were transmitted from our SNGs in Lund and Malmö were also delivered into the press centre via our down link on site.